Implicit membrane models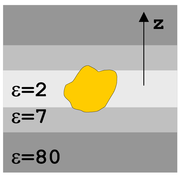 Explicit solvent and lipid models are the standard for simulating biological membrane systems but involve significant computational costs. When the focus is on mebrane-interacting molecules rather than the membrane itself, it can be sufficient to represent the membrane environment with a mean-field formalism. Such models can greatly accelerate simulations of membrane-interacting systems by eliminating the need for lipid relaxation.
We are developing implicit membrane models based on the generalized Born (GB) formalism. The HDGB model implements a variable dilectric layer system to model the membrane and the model has been extended to the DHDGB model to include membrane deformations in a dynamic fashion.
Related Publications:
2017
8.
Bercem Dutagaci, Maryam Sayadi, Michael Feig: Inclusion of van der Waals interactions in an implicit membrane model improves energetics of intra-membrane interactions Journal of Computational Chemistry (2017) in press,
2015
7.
Vahid Mirjalil, Michael Feig: Interactions of Amino Acid Side-Chain Analogs within Membrane Environments Journal of Physical Chemistry B (2015) 119, 2877-2885 Abstract PDF
2014
6.
Parimal Kar, Srinivasa Murthy Gopal, Yi-Ming Cheng, Afra Panahi, Michael Feig: Transferring the PRIMO Coarse-Grained Force Field to the Membrane Environment: Simulation of Proteins and Helix-Helix Association Journal of Chemical Theory and Computation (2014) 10, 3459-3472 Abstract PDF
2013
5.
Afra Panahi, Michael Feig: Dynamic Heterogeneous Dielectric Generalized Born (DHDGB): An implicit membrane model with a dynamically varying bilayer thickness Journal of Chemical Theory and Computation (2013) 9, 1709-1719 Abstract PDF
2008
4.
Michael Feig: Implicit Membrane Models for Membrane Protein Simulation Methods in Molecular Biology: Molecular Modeling of Proteins edited by Andreas Kukol, Humana Press (2008) 443, 181-198
2006
3.
Michael Feig, Seiichiro Tanizaki: Development of a Heterogeneous Dielectric Generalized Born Model for the Implicit Modeling of Membrane Environments Modelling Molecular Structure and Reactivity in Biological Systems edited by Kevin J. Naidoo, John Brady, Martin J. Field, Jiali Gao, and Michael Hann, Proceedings of WATOC 2005, Royal Society of Chemistry (2006) , 141-150
2.
Seiichiro Tanizaki, Michael Feig: Molecular Dynamics Simulations of Large Integral Membrane Proteins with an Implicit Membrane Model Journal of Physical Chemistry B (2006) 110, 548-556 Abstract PDF
2005
1.
Seiichiro Tanizaki, Michael Feig: A generalized Born formalism for heterogeneous dielectric environments: Application to the implicit modeling of biological membranes Journal of Chemical Physics (2005) 122, 124706 Abstract PDF